UGM-WMP Gets Muri Awards for Wolbachia Innovation to Eliminate Dengue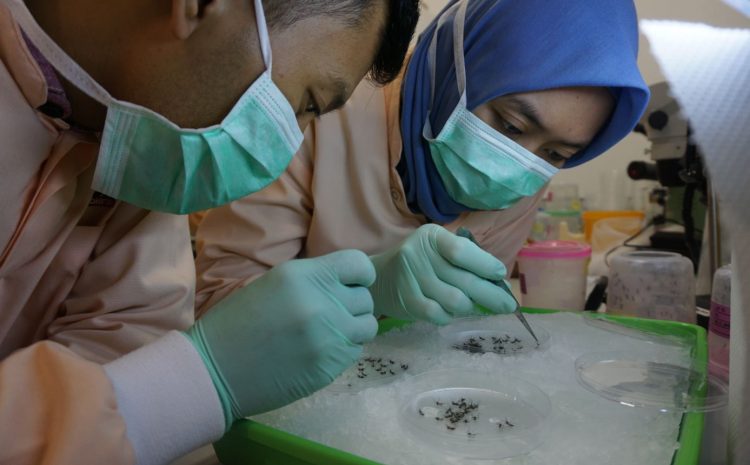 In early 2021, Gadjah Mada University ("UGM") and World Mosquito Program (WMP) Yogyakarta received a Muri (Museum Rekor-Dunia Indonesia/Indonesia World Record Museum) Award for the innovation in Applying Wolbachia to Eliminate Dengue ("AWED") research. The AWED research, which ended in August 2020, is the world's first dengue control study using the Randomized Controlled Trial method, which is the best clinical research standard (gold standard).
WMP Yogyakarta is a collaboration research between Gadjah Mada University and Monash University, and fully supported by Yayasan Tahija.
The Muri  Award was handed over to Prof. dr. Adi Utarini, M.Sc, MPH, Ph.D. at Jaya Suprana Show on 22nd January 2021.  Prof. Ir. Panut Mulyono, M.Eng, D.Eng, IPU, ASEAN Eng., Rector of Gadjah Mada University gave his big appreciation for this achievement. The dengue control research of developing Wolbachia technology to eliminate dengue has been greatly effective in reducing DHF cases by up to 77%.  This innovation is a contribution to the health sector in Indonesia and the world. Prof. Panut also hoped that the Government would also wholeheartedly support this beneficial research for the country.
As WMP Yogyakarta partners for the last ten years, Trihadi Saptoadi, Chairman of the Executive Board of Yayasan Tahija mentioned that UGM deserves this special award because it has provided an extraordinary institutional support for its researchers .  Yayasan Tahija is proud to become a part of this impactful innovation for the community.
After completing the AWED research in Yogyakarta City, WMP Yogyakarta will focus on preparing for the implementation of Wolbachia in Sleman Regency in 2021. This collaboration is carried out together with the regional district government through the Sleman Health Office, and in partnership with health centres (puskesmas) in the district.