From Yogyakarta to the World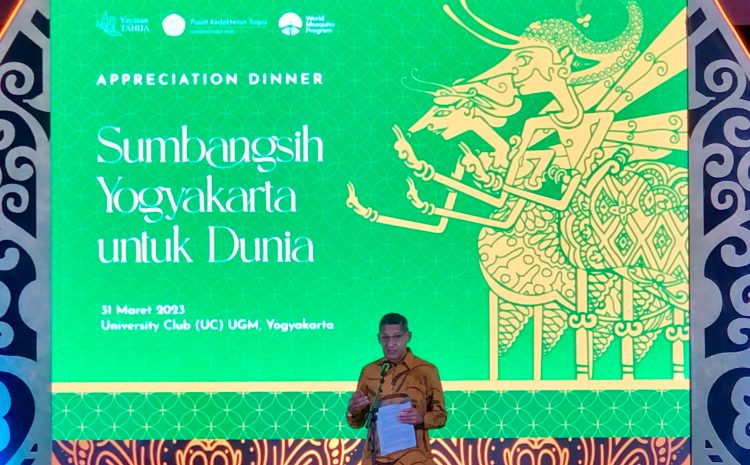 Yayasan Tahija and World Mosquito Program (WMP) in Yogyakarta held an appreciation dinner on March 31, 2023, at Gadjah Mada University Club to celebrate the successful completion of WMP in Yogyakarta. The research result demonstrated that the Wolbachia technology can significantly reduce the transmission of dengue fever by up to 77.1% in the intervention areas.
The event was attended by various partners and stakeholders who had supported the project for 11 years. During the event, Dr. Sjakon G. Tahija, Chairman of the Board of Trustees of Yayasan Tahija, expressed his gratitude towards everyone and the Government who have contributed to the success of the project, including the 8,000 health cadres who had volunteered their time and expertise to make the project a success. Prof Adi Utarini, Principal Researcher and Team Lead of WMP Yogya also presented the project's final report and summarized impactful project outcomes which have been recognized by international and national communities.
Sri Sultan Hamengku Buwono X in his speech as read by Setyarini Hestu Lestari, SKM., M.Kes., expressed his appreciation regarding the collaboration with Yayasan Tahija and all parties at WMPY so that this program could be implemented in Yogyakarta. The event highlighted the importance of collaborative efforts in achieving public health goals and demonstrated the potential of community engagement to drive long-term positive change. This spirit was also agreed upon by dr. Jody Mahendradhata, Ms.Sc., Ph.D., FRSPH on behalf of the rector of Gadjah Mada University. By sharing the knowledge and experience gained from the WMP Yogyakarta project, Yayasan Tahija aims to inspire and enable others to implement similar interventions that can have a significant impact on public health. The research results from the WMP Yogyakarta project are expected to contribute to improving global health, especially the global efforts to eliminate mosquito-borne diseases.