"Besanan Nyamuk WoW Mantul" Deployment Grand Launching of More Than 19,000 Mosquito Egg Release Containers in Bantul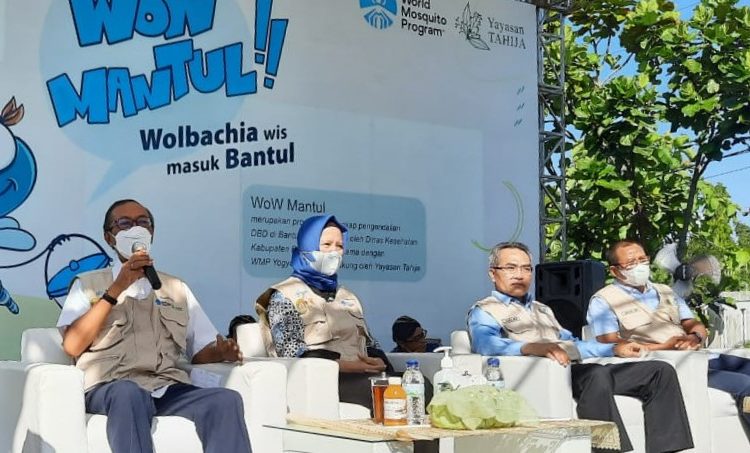 After completing the Wolbachia technology research that has proven to be effective in reducing 77% of DHF cases and reducing 86% of inpatient DHF cases from the results of the efficacy test study, the World Mosquito Program (WMP) Yogyakarta in collaboration with Bantul Health Office started the implementation of Wolbachia technology by placing a bucket filled with wolbachia mosquito eggs in the "WoW Mantul Program (Wolbachia has entered Bantul)" on Tuesday, 24 May 2022.
The Grand Launching event entitled "Besanan Nyamuk WoW Mantul" is a ceremonial event starting with the placement of 19,437 buckets containing Wolbachia Aedes aegypti mosquito eggs at foster parents' homes (OTA) and public & social facilities in Bantul area, which includes 11 districts, 38 sub-districts and 519 hamlets. Over the next 6 months, Wolbachia-infected mosquitoes are expected to be released from the bucket and mate with local mosquitoes and produce Wolbachia-infected offspring.
We are very grateful for the enthusiasm and participation of the Regional Government of Bantul and the Bantul community in this activity. The deployment of Egg Release Containers is supported by 3200 health cadres. In this project WMPY also collaborates with Muslimat NU to deploy the mosquito eggs in Jetis sub-district as an experiment and learning collaboration with Civil Society Organizations.
The Grand Launching event was attended by Bantul Regent, H. Abdul Halim Muslih, Head of Bantul Health Office, Agus Budiraharja, SKM, M.Kes, WMP Yogyakarta Project Leader, Prof. Adi Utarini, and Tahija Foundation Advisor, Anastasius Wahyuhadi. On this occasion, the Head of Bantul Health Office mentioned that so far, dengue cases in Bantul often occupy the top positions in the Special Region of Yogyakarta, alternating with Sleman and Yogyakarta City. In the 2018-2020 period, the number of dengue cases in Bantul reached 2,159 cases of dengue. In 2022, the incidence of dengue cases from January to March has reached 263 cases. Hopefully Wolbachia Technology can become one of the strategies to complement DHF control in Bantul.